Lean To Shed
Types and styles of lean to sheds and links to Lean To shed plans.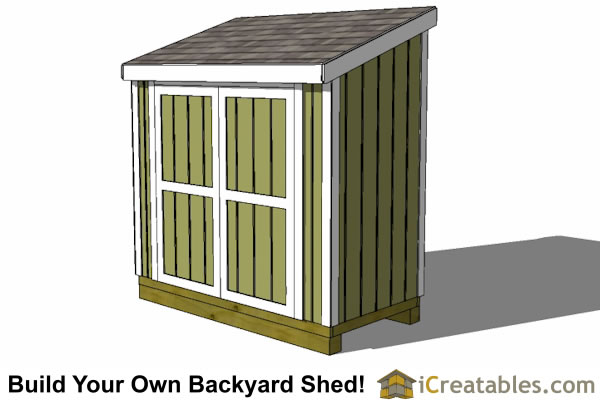 Click here to check out our Lean To Shed Plan Library
Are you looking for a little more storage space for your yard and garden tools? Do you need to get stuff out of your garage so you can park you car in it? Do you want a storage space up against a fence or the house and want to keep the water running away from the structure? Or do you simply like the look of a lean to shed? If you do then a lean to shed may be the perfect solution to your storage needs. Lean to sheds can be built in many sizes and configurations to fit any need and shed building budget. From a storage closet that is only 2 feet deep to store yard and garden tools in to a shed large enough to park your car in, a lean to shed can handle it all.
Lean to sheds get their name from the basic principal of leaning multiple pieces of wood up against something and creating a protected space below. Laying boards against another structure or fence creates a "lean to". For example, many people lean a piece of plywood up against their fence and park their lawn mower under it. This is the simplest form of a lean to. The next logical step is to add supports under the roof to create a lean to shed.
Lean to sheds have come a long way from simply leaning logs up against a rock and covering it with pin boughs to make a shelter. A lean to shed can be used as a modern shed to be used as an office or studio, a simple wood shed to season firewood or a storage shed to store garden tools, a lawnmower, bikes or kids outdoor toys.
Design Styles
Lean to sheds are the most basic type of shed to build because the roof is built with beams laying all the way across from one side to the other, there is no roof ridge which makes the roof much simpler to build. The two main ways to build a lean to shed are to attach it to another structure or to build it free standing:
Attached to A Fence, House Or Other Structure: Using another structure to hold up the back side of the shed roof keeps your shed simple to build and will probably reduce the construction costs. Locating your shed in this way also often keeps the yard space open and uncluttered. The walls of a lean to shed attached to a wall can be enclosed if desired.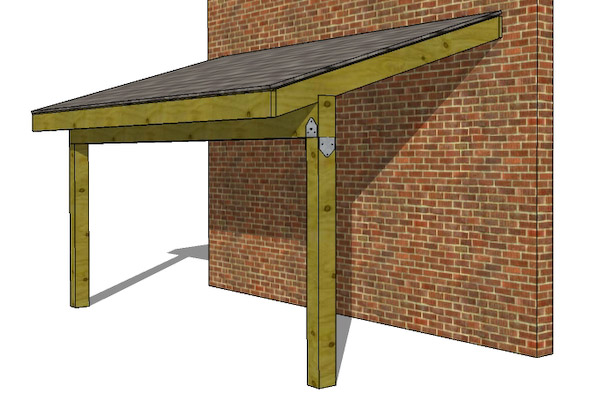 Free Standing: A free standing lean to shed has four corners and does not need to be attached to another structure or building for support. It can be built up against another structure but it does not use the other structure for support. Building a free standing shed allows you to put the shed anywhere in your yard that you desire. You can view the plans to this 4x8 lean to shed at 4x8 Storage Shed Plans. This smaller shed is often built to house a lawn mower and other yard tools to keep them out of the garage. The larger front doors allow easy access to the whole interior.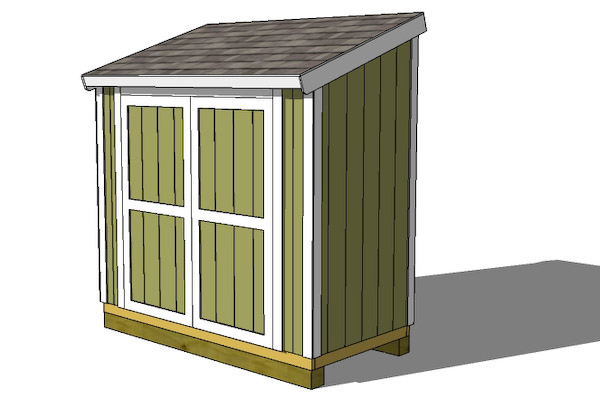 Modern Office or Studio: When building a back yard office or study it is popular to build a lean to style shed because the styiling of a lean to shed make it look a little more hip than a regular storage shed with a peaked roof. Adding windows, a glass door and siding The plans to this lean to shed office are at Modern Shed Office Plans.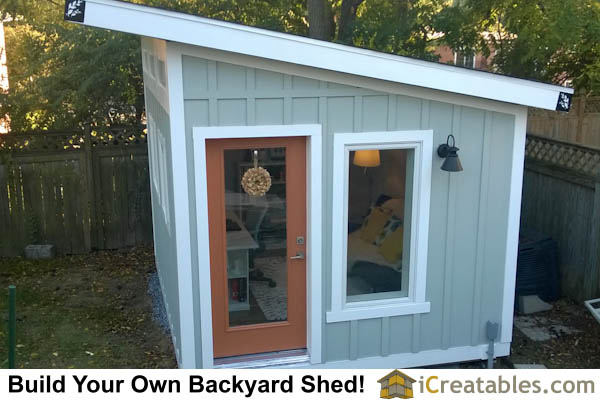 Lean To Shed Plans
Finding shed plans on line can be a challenge because there are so many spam sites that take you so many places you forget what you were looking for. The best plans to build a shed from are found on icreatables.com on their Shed Plans pages. They also have a great tutorial on How To Build a Shed. It covers how to build a typical shed with a peak roof but you can get many ideas on the process of how to build a shed and apply them to building your lean to shed. (Of course we think their the best:)
Sizing Your Lean To Shed
The size of your shed depends for things: your local zoning requirements, your storage needs, the amount of space you have to build the shed on and your budget. These are a few considerations to help you decide how big your shed should be:
Zoning Requirements: Most cities and counties want to know if you are building a shed and will most likely have some rules that determine the size of the shed, how far from fences and other structures that a shed can be built and how high the roof can go. Often there is no permit required if the shed is below a certain size. The easiest thing to do is call your local building and zoning department and find out what their requirements are. If you live in a neighborhood with a homeowners association they will probably have rules that you should find out about before building a shed or other structure in your yard.
Storage Needs: The amount of storage needed is different for every person and situation. I have found that one can never have too much storage space. Yard space is valuable so you may consider organizing your existing storage spaces by adding shelves and hooks to help maximize what you have. Then figure out what you want to store in your new lean to shed and determine how much storage space you need. Combine this need with the other things discussed here and decide how big your shed should be.
Space To Build The Shed: Take the dimensions of the size of shed you want to build and go into your yard and measure off the spaces that you think the shed will fit or work well. Consider where the door will go and how that will affect the area around the shed. A lean to shed roof slopes in only one direction so look at where the water from the shed roof will go when it rains, you don't want to flood out part of your house or yard.
Shed Building Budget: The cost of building a lean to shed varies depending on the design and the size. If you do all the labor a basic 4x8 lean to shed can be built for about $500 including a rail foundation, 4 walls, framed floor, roof and adding a door and paint. If you are building a simple "wood shed" style of lean to with 4 posts, no floor and a roof then the cost will be considerably