How To Install A Electrical Subpanel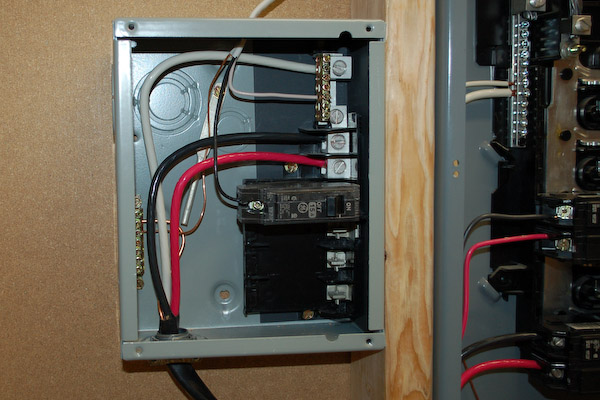 If you want to add several electrical circuits to your backyard storage shed or studio shed you will need to add an electrical sub panel with circuit breakers. This allows you to have multiple circuits in the shed. You can then have separate lighting and power circuits in the shed.
Other typical reasons for adding a circuit breaker are finishing a basement or adding power to a garage. This article teaches you how to add a circuit.
Install a electrical circuit breaker sub panel when your main circuit panel is full and you need to add more circuits. Sub panels can be installed both next to the main electrical panel or close to the area you are bringing power to such as when finishing a basement, adding an addition to your home or you simply need more power in the garage.
brief how to
In this article, you will find information about:
Install The Sub Panel Box
Pull The Feeder Cable Between The Sub Panel and Main Electrical Panel
Pull The Feeder Cable Into The Sub Panel
Attach The Feeder Cable Wires To The Sub Panel
Turn The Power Off And Verify Space For The New Double Pole Feeder Breaker
Pull The Feeder Cable Into The Main Electrical Panel
Attach The Feeder Cable Wires To The Main Electrical Panel
Install The Breaker Into The Main Electrical Panel
Install Circuits In The New Sub Panel
tools and materials
Hammer
Wire clamps for the feeder cable knockouts on the sub panel
Flat head screwdriver
Phillips head screwdriver
14/2 Non metallic cable for 15 amp circuit, 12/2 Non metalic cable for 20 amp circuit
Utility knife
Handy Boxes for outlets, switches, lights, telephone, data and smoke alarms
Wire Stripper
Cable sheathing stripper
step 1 Install The Sub Panel Box On The Backyard Shed Wall
Sub Panels are designed to be mounted in the wall cavity between two wall studs. When the electrical sub panel is installed in a wall cavity and the wall is covered with drywall or plywood you do not need to protect the wires with conduit. Mount the sub