SHOP BY STYLES
SHOP BY SIZES
SHED BUILD VIDEOS
MORE SHED PAGES
SHED PLAN RESOURCES
<! --END CONTENT BOX -->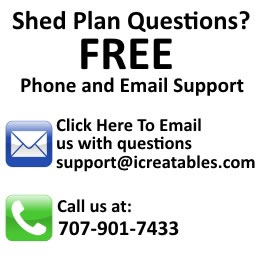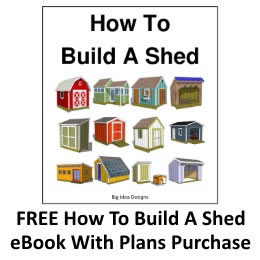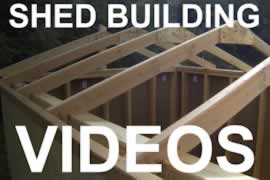 Click To Watch How To Build A Shed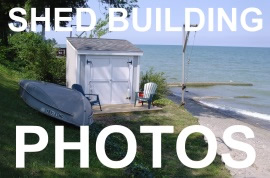 Click To View Shed Building Photos
What People Say About iCreatables Sheds. CLICK FOR MORE INFO
"I'm declaring victory over the shed project. Thanks for the great plans and for answering my various e-mails along the way." John
You guys are awesome! Thank you very much!" Denise
Shed Plans Example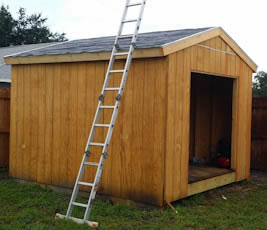 How Tall Is My Shed?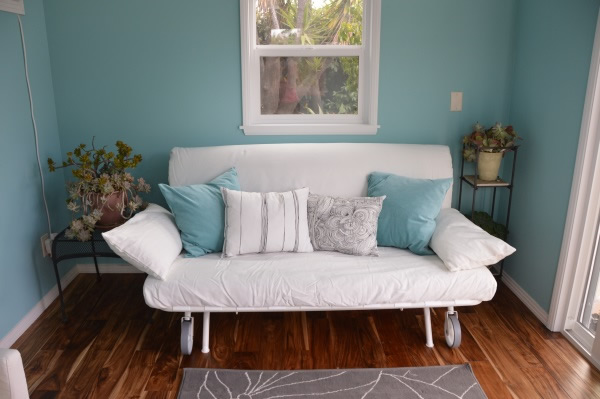 How To Finish A Shed Learn about Concrete Electrical, Roofing etc.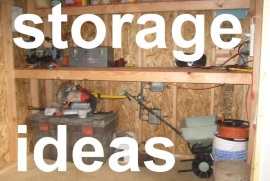 Click For Shed Storage Ideas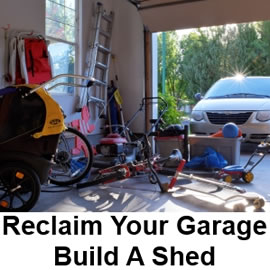 Using a simple firewood shed to cover your firewood storage provides the perfect way to season your wood and keep it dry. Firewood sheds typically have open floor boards to allow air to circulate and an open front to allow easy access to the wood. All of our firewood shed plans and wood bins have a complete materials list to help you build the shed. Stacking the firewood in a shed with good ventilation lets the wood dry out without rotting so it will be ready for your winter fires! Our firewood shed plans come in different sizes to fit every need.
Large View Of Firewood Sheds
4x12 Firewood Shed Built in Leland, MI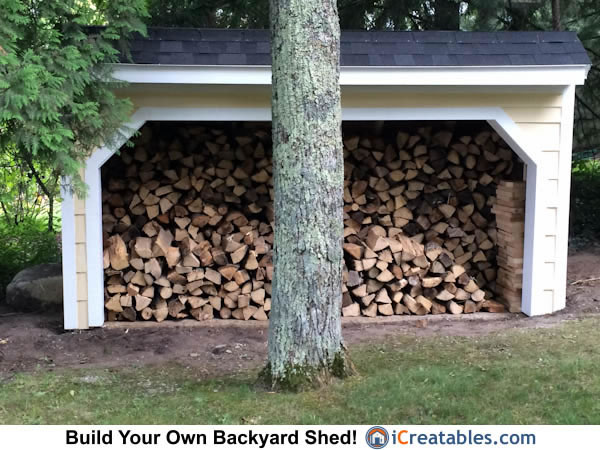 4x8 Firewood Shed built in Eljay, GA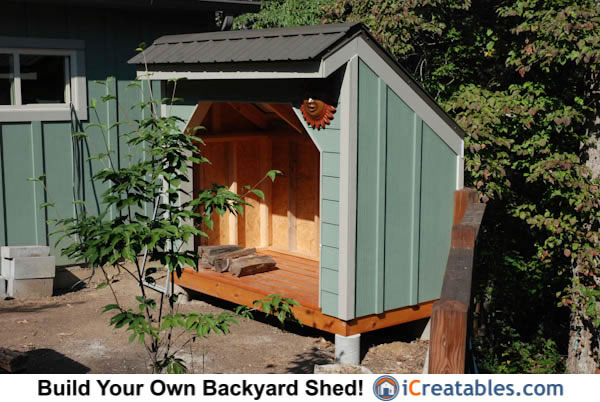 4x8 Firewood Shed built in Lapeer-MI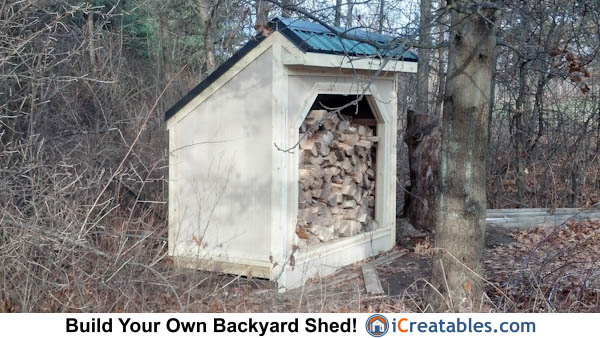 4x8 Firewood Shed built in Tualatin, OR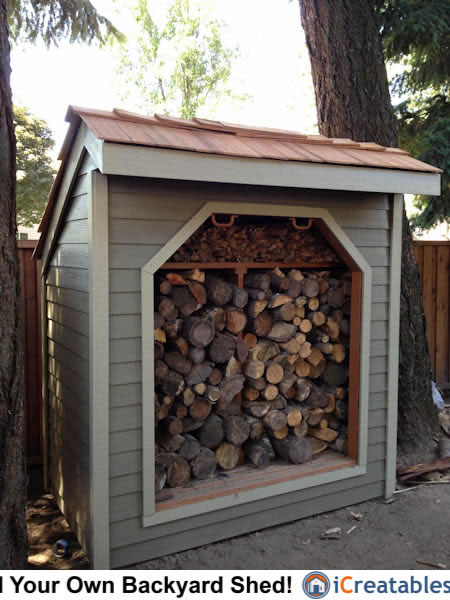 Why Do I Need A Firewood Shed
Firewood sheds are designed to season your firewood. This prepares it for and keeps it ready to burn when you need it. Seasoning your firewood is done by keeping the stacked firewood covered with the shed roof while at the same time allowing air to move in and around the firewood. This method of covering and protecting the wood from moisture while allowing air to move through it is critical to protect your investment in the firewood and assuring it is ready to burn.
Picking The Correct Size Of Firewood Shed
Most of our Firewood sheds are designed to be either 4 feet or 8 feet deep to both econimically use the construction materials as well as help you keep track of how much of a cord of firewood you have. Firewood is sold by the "Cord" or fraction thereof. A Cord is defined as a stack of wood that is 128 cubic feet. That works out to a stack of wood 4 feet deep by 4 feet tall by 8 feet long.
Three rows of 16 inch logs creates a 4 foot deep stack. If you make the stack 4 feet tall and the shed is 8 feet long you will have one cord of firewood.
When you are choosing the firewood shed plans to build your firewood shed you will want to make sure that it is properly sized to store the amount of firewood you will use each burning season.
Lean To Firewood Shed Plans
One of the best ways to build a firewood shed is to use lean to firewood shed plans. Many of our firewood shed plans are built with a modified lean to roof with the modification being the addition of a short sloping roof on the front side to keep the water drips away from the shed opening. The lean to shed works well for a firewood shed because most of the water or snow running off the roof goes to the back side of the shed away from the main access into the wood bin storage area.
Storing Firewood
Seasoning and is done by cutting, splitting, stacking and storing the firewood. Seasoning firewood by allowing it to dry takes about a year so you will want to have two years supply of wood in the fall. One years worth that you have seasoned for a year and the new wood that you will stack and season for next year.
Stacking Firewood
Proper stacking of firewood is another important factor to get the air to move through the firewood stack. If the stack is too tight then the air will have a hard time flowing through it and if it is too loose the space inside the firewood shed will be wasted. Try to stack the wood in even rows with the pieces of wood laying parallel to each other. Randomly throwing wood into a pile wastes the available protected space inside the firewood shed.
Cutting Firewood
Cutting Firewood to the proper length is important so that the firewood easily fits into your fireplace of wood stove when it is time to burn. It is not fun to bring the firewood into the house and then realize that it will not fit into your stove. After cutting you may want to let the firewood dry a bit so it is easier to split.
Splitting firewood
Splitting firewood is important to speed up the seasoning process for the firewood and getting it ready to stack. When firewood is split it increases the surface area of the wood which allows it to dry faster. There are many ways to split firewood from using an wood cutting ax to a hydraulic wood splitter with the latter making your life much easier if you are splitting and storing a large amount of firewood.
Air movement
Keeping the air moving around the wood is very a very important part of seasoning firewood. When there is no air movement around stacked firewood the wood will retain moisture for a longer period of time which promotes mold and rot as well as lengthens the time before you can burn it. So providing a way for air to move through the wood pile is as important to properly stacking firewood as keeping it from getting wet from rain or snow. A well built firewood shed will keep rain and snow from landing directly on top of the wood every time it rains. Use these three practices to keep the air moving around your wood:
Store off the ground. Moisture from the ground will rot firewood. It also helps if the floor of the wood storage area allows air to flow up and through the wood. Ventilation from below. Wood drys faster when air is allowed to flow from below and up through the wood. Space between rows for air flow. Provide several inches between the rows of stacked firewood to let air more easily move around the firewood.
Locating Your Firewood Shed
When buildIng a firewood shed it is important to consider the location of the shed in relation to the house since you will be traveling out to it often. If burning firewood is the main source of head during the winter you will want the wood shed to be close to the house. If you build fires occasionally then it is not as important to have the firewood storage bin so close to the house.
Because the fronts of the firewood sheds are open you will want to face the shed away from prevailing winds so that the open side of the shed does not easily allow moisture in. Although it is ok for rain or snow to occasionally blow in the front of the shed you do not want the wood to become drenched and be continually wet.
Start Planning and Building a Firewood Storage Shed Today!
Using a firewood storage shed that has been designed to season and store firewood is one of the best ways to prepare and store your firewood. We have many sizes and styles of firewood sheds to choose from. So view the different plans above and start building today!