Portable Generator Enclosure Plans
Build an all Metal Framed Generator Enclosure for about $50.00*
This all-metal portable generator enclosure is made to protect your generator against weather damage. We keep our designs simple and cost effective, never forgetting your needs. Our plans include a materials list with the majority of the materials available at most home stores.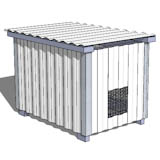 Product Details: sku (shedGEN-METAL)
Your Price: $12.99 (per each)
The All Metal Portable Generator Enclosure Features:
Cost Effective Simple Design - The all-metal generator enclosure is designed to sit on-top and cover the generator. The shed is lifted off to fuel the generator and to provide other maintenance. The generator can be moved out of storage to a well-vented area when it is being used.
Designed To Fit Your Generator - Email us today to receive a quote and receive answers to any questions you may have.
Dimensions: The outer dimensions of the shed are 4'-2" wide, 36" deep and 36" Tall.
Portable Design - This generator enclosure is built using lightweight metal framing studs and corrugated roofing. Its light weight allows you to move it to the generator location.
Venting - The metal generator enclosure is vented in three ways: 1) comes with a two-inch opening around the box where it rests on the ground, 2) a 1 1/2" opening just below the roof panel on the two shorter ends of the shed to allow air to flow from the ground up past the generator and out below the roof, and 3) metal screen that is positioned in front of the generator exhaust port.
Weather Protection - This small generator shed is designed to allow you to run your shed outdoors with limited protection. By necessity, the open floor and generous venting provides openings where some water may enter the enclosure. This Shed is not 100% waterproof.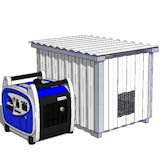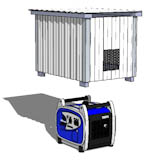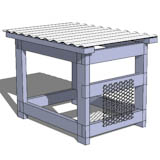 Generator Enclosure Shed Plans Describe The Following:
Floor = No floor is designed with this shed. It is designed without a floor so that it may be set over the top of the generator.
Walls = 2x4 metal framing track is used to build the wall frames. Diagrams are given to show how to cut the metal studs and screw them together.
Door = No door is used with this shed. It is designed to be lifted over the top of the shed.
Roofing = Corrugated metal
Siding = Corrugated metal
Trim = 2 in. x 2 in. metal drip edge is used as the corner trims.
Tools Needed: Straight Cut metal snips to cut the metal pieces, Cordless drill to install metal screws, gloves to protect hands when handling metal.
Venting: The use of openings at the top and bottom of the walls as well as expanded metal provides venting so the generator can be run while in the shed.
Note: due to the fact that this generator shed is all metal it will have sharp edges.
*$50.00 price is for 3 ft. long by 2 ft. wide by 2 ft. high shed materials purchased locally. Local prices may vary. Does not include taxes or tools. Price will vary depending on local materials prices. $50.00 price does not include construction plans.
What People Say About iCreatables Sheds. CLICK FOR MORE INFO
"I'm declaring victory over the shed project. Thanks for the great plans and for answering my various e-mails along the way." John
You guys are awesome! Thank you very much!" Denise