Drip Edge Installation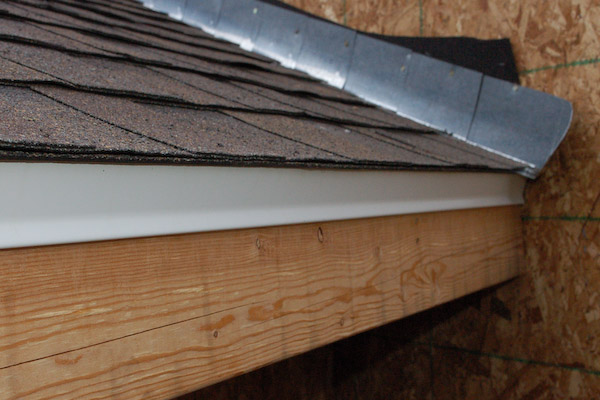 Installing drip edge along the eves and rakes of the roof is the first step when roofing a house. Roofing drip edges are angled pieces of metal flashing that sit on the eve and rakes of the roof to direct water over the edge of the eve and down to the rain gutter or the ground. Drip edges protect the connection between the roof plane and the facia from water getting in and rotting at the edges.

brief how to
In this article, you will find information about:
Types Of Roofing Drip Edges
Sequence Of Drip Edge Installation
Cutting Drip Edge
Nailing Drip Edge
<! --END CONTENT BOX --> <! --BEGIN ADVERTISEMSNTS --> <! --END ADVERTISEMSNTS --> <! --START LOWER CONTENT BOX-->
tools and materials

Metal drip edge
Tin Snips
Hammer
Roofing Nails (metal nails for metal drip edge, aluminum nails for aluminum drip edge)

step 1 Types Of Roofing Drip Edges
There are several types of drip edges. This is a description of a few of the types:
"L" shaped: A straight bent piece of metal that is shaped like an L. This drip edge works but not as well as some of the newer shapes
"P" shaped: This drip edge is bent so that the corner extends out a little like a "P". This shape protects the wood better than the L shape because it forces the water farther away from the edge and encourages it to drip off before it runs down the vertical face of the facia.
step 2 Sequence Of Drip Edge Installation
Roofing drip edge is installed in conjunction with the underlayment installation in the following sequence:
Drip edges are always installed on the eve of the roof first. (the lower horizontal edges)
Then the underlayment is installed over the drip edge and the rest of the roof including up the rakes.
Finish the drip edge installation by installing it on the rakes, on top of the underlayment. Start down at the eve and then work your way to the top of the rake. Overlap the joints bt 4 inches with the higher pieces of drip edge on top so the water will run onto the top of the lower drip edge and not under it.
(There is a black ice shield used in place of the tar paper along the eves and a plastic type of tar paper used above that in this photo)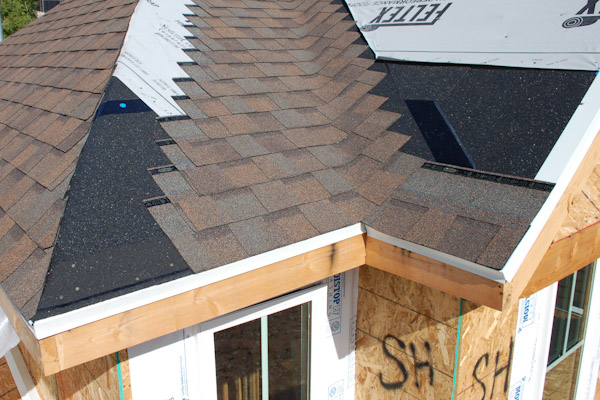 step 3 Cutting Drip Edge
Drip edge is cut using tin snips. It is a very light gauge metal that is easily cut.
step 4 Nailing Drip Edge
Nail the drip edge on the top only. When the nails are installed on the top of the drip edge they are covered with roofing material which keeps water from running in around the nails and also makes the finished job look nicer. Never nail on the vertical face of the drip edge.
related articles