tools and materials

Mouse trap of your choice
disposable gloves
Sunflower seeds, peanut butter or piece of chocolate

step 1 Remove The Mouse Trap Packaging
There is usually a staple holding the snap wire to the wood block. Remove the staple so the snap wire can be pulled back.
step 2 Add Bait To The Trigger
The best mouse trap bait to use when setting Victor mouse traps is peanut butter. Victor mouse traps need a bait that sticks to the trigger and does not just lay on it. Place enough peanut butter on the trigger so that it covers the trigger. Make sure it is stuck to the trigger so that it does not fall off when the mouse touches it. Make sure the peanut butter is only on the end of the trigger that is farthest from the mouse trap spring.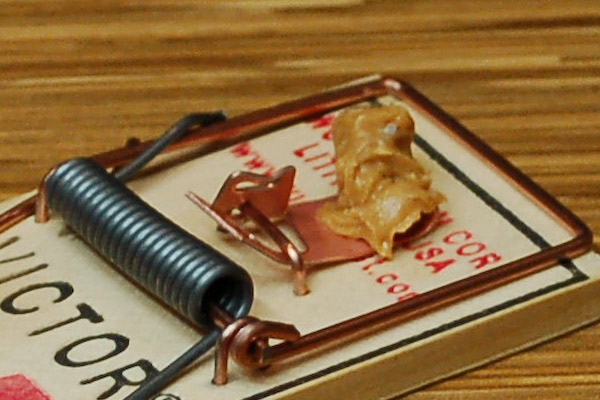 step 3 Setting The Mouse Trap
Pull the snap wire back and lay the lock bar on top of the snap wire.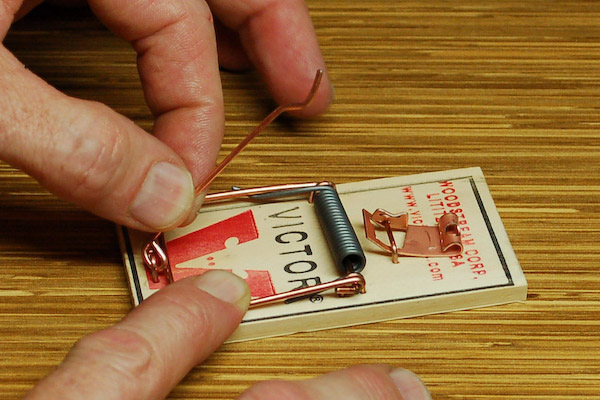 Lodge end of the lock bar under the hook on the trigger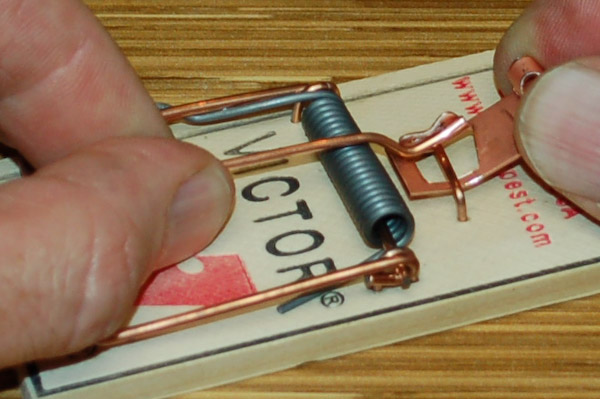 Slowly relieve the hand pressure holding the snap wire down and let the snap wire press upward on the lock bar which will press upward on the trigger. The baited end of the trigger will lift up locking the mousetrap in the set position.
If the lock bar slips off the trigger hook the trap will spring so be careful when removing pressure on the snap wire, keep your fingers away from the business end of the mouse trap at all times. (the business end is the end that has the bait on the trigger) It may take several tries to get the mouse trap set.
step 4 Placing The Mouse Trap
Always hold the mouse trap on the end that the Red V is on, the same end that the lock bar is stapled to the wood block. Carefully place the mouse trap with the trigger end up against the wall. Mice like the security of walking along walls so placing the mouse trap in this position interrupts their travels and interests them with food. Make sure to place the mouse trap in an area that kids and pets will not be able to disturb it.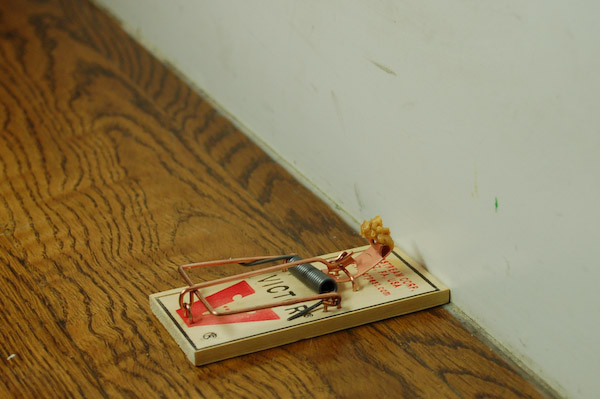 step 5 Remove the Mouse From The Mouse Trap
Once you have caught a mouse you will want to remove the mouse from the trap as soon as possible. The easiest way to get rid of the mouse is to throw the whole trap and mouse away. If you want to set the mouse trap again you will need to remove the mouse by lifting up the snap wire over a garbage bin and releasing the mouse. Make sure the mouse is dead before releasing the wire. If the mouse was caught on a non vital body part like a leg or tail it may still be alive.
related articles