Mouse Trap Bait
The Best Mouse Trap Bait By The Type Of Mouse Trap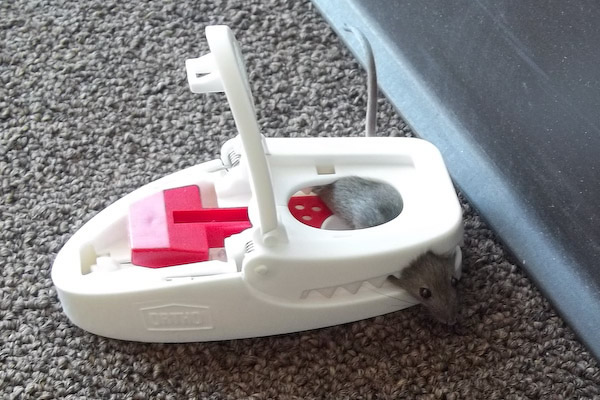 Each type of mouse trap uses a different type of mouse trap bait depending on the trigger on the trap. Over the years I have had mice get into different types of food and I find It is interesting to see what they eat and what they leave alone when they have choices. This article describes the best mouse trap bait depending on the type of mouse trap you are using.
brief how to
In this article, you will find information about:
Peanut Butter As A Mouse Trap Bait
Sunflower Seeds As A Mouse Trap Bait
Chocolate As A Mouse Trap Bait
<! --END CONTENT BOX --> <! --BEGIN ADVERTISEMSNTS --> <! --END ADVERTISEMSNTS --> <! --START LOWER CONTENT BOX-->
tools and materials

Peanut Butter
Sunflower Seeds
Mouse Trap Of Your Choice

step 1 Peanut Butter As A Mouse Trap Bait
Peanut butter is a great mouse trap bait because it sticks to everything and mice love it. A lot of mouse traps use a trigger that does not hold onto bait. So the bait must hold onto the trigger. Peanut butter is the perfect mouse food to hold onto a mouse trap trigger. Mice love peanut butter so this is the perfect solution.
The only problem is that sometimes mice lick the peanut butter instead of biting it. If the trigger on your mouse trap is heavy, meaning it does not easily release, and the mouse licks so softly that the trigger does not release you may find you are simply feeding the mice. If this happens you don't need to change the bait, they obviously like it. You simply need to alter the trigger a bit so that it is more sensitive. If you are setting a Victor mouse trap use a pair of needle nose pliers and bend the metal tab to make the mouse trap trigger more sensitive.
step 2 Sunflower Seeds As A Mouse Trap Bait
Mice love sunflower seeds! Sunflower seeds are the best mouse trap bait for traps that have a food tray or little cup that a sunflower seed can sit in. Simply place a single sunflower seed in the food tray. Sunflower seeds have a fairly hard shell that takes a little bit of work to get into. When the mouse starts messing with the sunflower seed bait the trap will spring and you have caught your mouse. The best mouse trap that you can put a sunflower seed in is the Ortho Press N Set.
step 3 Chocolate As A Mouse Trap Bait
Chocolate is another great bait for mouse traps. I have had trays with all sorts of hard and soft candies on the table and the mice always go for the chocolate. Chocolate is simialr to sunflower seeds in that it is harder and when the mice try to pick it up or bite into it there will be enough disturbance of the trap trigger to set off the mouse trap.
related articles
image courtesy of istock photo