How To Build A Home
Step 11 Frame The Exterior Walls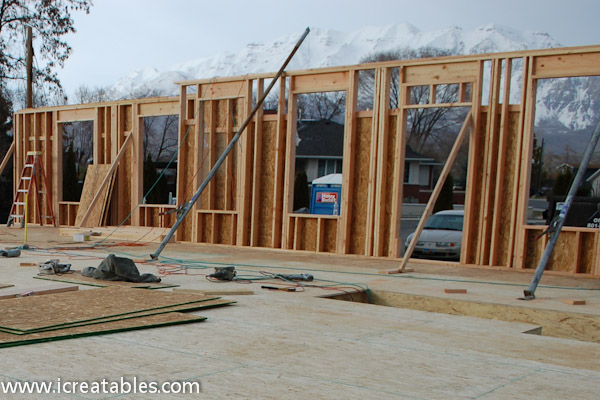 Framing the exterior walls of a home happens immediately after the floor is framed. Building codes require that exterior walls be sheated with plywood or oriented strand board, OSB. Walls in cooler climates are built with 2x6 framing and in warmer climates they are built with 2x4 framing. The most common layout for wall studs is 16 inches on center.
The perimeter of the home is laid out with by marking the floor where all the walls, window, doors and other openings are. Then the top plate and sill plate are put next to each other and marked with all the things that the wall will have on it, windows, doors, other walls etc.
The studs are then laid between the top and bottom plates. The headers, trimmers and criples are cut and installed.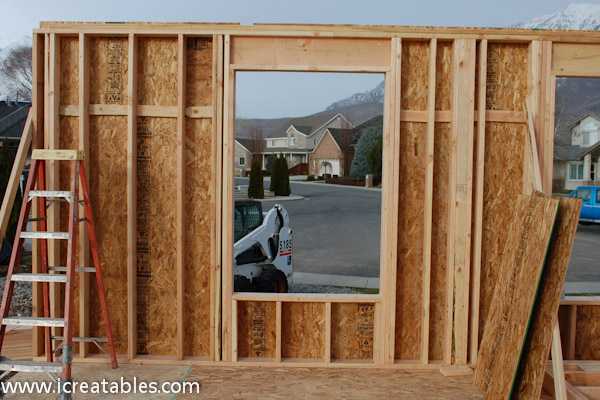 Then the wall is squared up and it is sheeted with the oriented strand board (OSB). Once the OSB is nailed on the wall panel becomes very rigid and is ready to be stood up. The wall is stood up and nailed onto the floor in line with the chalk line.
It is important to put temporary angled braces from the wall to the floor so the walls don't fall over and so they can be kept perfectly straight while the rest of the exterior walls and the interior walls are built.
what else happens on this day
If there is time the front porch will be blocked up so concrete can be poured on it.
related articles
What People Say About iCreatables Sheds. CLICK FOR MORE INFO
"I'm declaring victory over the shed project. Thanks for the great plans and for answering my various e-mails along the way." John
You guys are awesome! Thank you very much!" Denise