step 1 Disconnect The Electricity
If the power coming into the electric outlet box is on it must be turned off before working around the electric outlet to prevent electric shock.
step 2
Determine If The Power Needs To Go From The 2 Gang Outlet Box To Another Box
If the two gang outlet box is the last outlet in the run then go to step 3.
If the two gang outlet box is in the middle of a run then you will need to add "pig tails" to the wiring of the outlets. Pig tails are installed by using 6" pieces of wire to go from the connection between the wire coming into the electric box and the wires going out of the box. Make sure that you keep the wires that are attached together the same colors. Use a wire nut to attach together the following:
Black wire coming into the box to the black wire going out of the box to a 6" long black pig tail.
White wire coming into the box to the white wire going out of the box to a 6" long white pig tail.
Green or copper wire coming into the box to the green or copper wire going out of the box to a 6" long green or copper pig tail.
Now you are ready to attach the three pig tails to the first outlet.
step 3
Wire The First Outlet
To attach a wire to the terminals you will strip a little less than an inch of the coating off the wire. Bend the wire in a loop that is tight enough so it can't slip from under the screw head. Hook the wire loop over the screw making sure the end of the wire is on the right hand side of the screw when viewed from the top of the screw head. Tighten the screw.
Attach the wires to the terminals on the first outlet:
Black wires go to the Top Brass screw.
White wires go the the Top Chrome screws.
Green or bare copper wires go to the Green screw.
The connections will look like this. The black described in the instructions represents the red wire in this photo.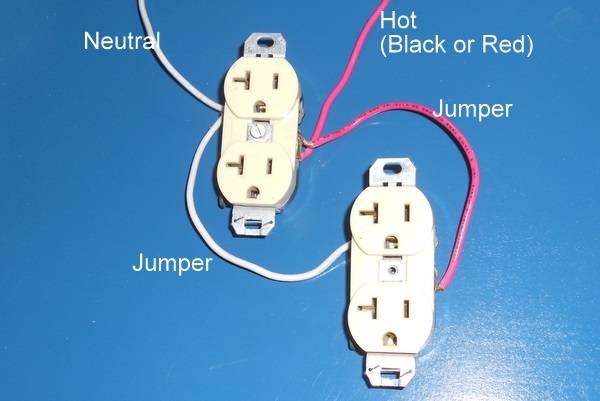 step 4
Wire The Second Outlet
Attach 5 inch jumper wires from the secondary terminals, bottom terminals, on the first outlet to the top terminals on the second outlet. Make sure to keep the colors of wire attached to the proper terminals; black to brass, white to chrome and green or copper to ground.
step 5
Install The Outlets Into The Two Gang Outlet Box
Use the screws that are attached to the outlets to screw the outlets to the electric box. Install a cover plate and turn the power on to test your new two gang outlets!
related articles