tools and materials

Light fixtures rated for under cabinet use
Stud finder
Drywall saw
Screw gun
Wire nuts
Switch box
Switch, if not using and existing lighting circuit
12/2 non metallic wire
5/8" drill bit

step 1 Find A Power Source
Do some investigating and find the best place to get power from. Typical options include tying into the existing kitchen lighting circuit, tying into a circuit that is on the wall behind the kitchen cabinets, like a bedroom or dining room or you may simply be able to run a new circuit from the service panel. If you do run a new circuit you will want to install a 15 amp breaker and use 12/2 non metallic wire. See the article Add A New Circuit
Be careful about using the GFCI outlet circuits as these are required by code to be dedicated without any other items tied to them.
Turn off the circuit you will work with at the breaker panel before touching or working with it.
step 2 Locate The Switch, Cut The Holes
Find the best place for the switch. If minimizing wall damage is important to you then you will want to find a switch location that is under the wall cabinets. Place the switch in a place that you can fish wire from the power source and to the under cabinet area.
Cut a hole for the switch box at the same height as the above counter outlets and switches using the drywall knife.
Drill a 5/8" hole in the wall side of the cabinet up against the bottom of the wall cabinet.
step 3 Fish The Wire
Fish the wire from the switch hole to the hole that enters the wall cabinet.
step 4 Install The Light
Screw the light on at the front side of the cabinet right behind the frame. Use the screws that come with the fixture. Double check that the screws will not go all the way thru the cabinet wood. The face frame or trim on the front of the cabinet will be thicker than the bottom of the cabinet.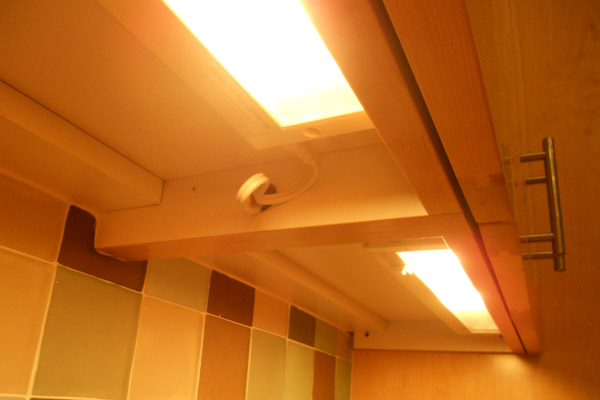 step 5 Install The Switch
Wire the switch by pulling the wire thru the back of the switch box and then either screwing the switch box to the stud or if it is a remodel box, tightening the screws that clamp it to the drywall. Strip 6 inches of sheating from the end of the wires. Remove the insulation from the last inch of the black and white wires. Use the holes in the wirestrippers or needle nose pliers to form a hook at the ends of the black wires.
Attach the black wires to the brass terminals on the switch, make sure the hook on the wire ends wraps clockwise around the terminal.
Attach the two white wires together with a wire connector.
If using a plastic box attach the two ground wires together and add a 6 inch pigtail to go to the gound on the switch.
step 6 Wire The Light
If the fixture did not come with one you will need to install a wire protector to put the wire thru the side of the light fixture. Attach the Black to Black, White to White and Ground to the ground screw inside the light.
Turn the breaker back on and test the light. If everything works properly then you can install the light cover and the switch cover.
related articles