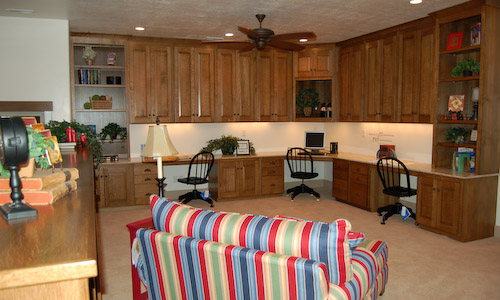 Finishing A Basement Articles
Basement finishing is a great way to adding more living space to your home. Because you don't need to build a roof or put siding on or build a foundation the cost to finish your basement is a fraction of what it would cost to build an addition to your home.
These articles will teach you how to turn your unfinished basement into a beautiful living space.
Learn how to plan your basement finish so the space is best used and functional.
Get lots of basement finishing ideas and basment remodeling ideas from our basement photos articles. These pictures show you the possibilites so you can design and plan your basement.
Learn how to figure out the cost of basement finishing or remodeling.
Learn how to insulate a basement.
Learn what codes apply to finishing a basement including bedrooms, windows, electrical and fire blocking
Learn how to build and finish a basement bathroom.
Print out our checklist of things to consider when finishing a basement
Frame basement walls
Install electrical in your basement, including how to install a electrical sub panel
How to install finish trim
Get ideas for specialty basement rooms like theaters and bars.
How to draw your basement on graph paper to insure the basement finish is well planned out.
10 Basement Spaces You'll Love
How To Finish A Basement Checklist
basement framing
Basement plumbing
Basement electrical
How To Install Electrical Wiring In A Basement
Other Basement Finishing Articles
<! --END CONTENT BOX --> <! --BEGIN ADVERTISEMSNTS --> <! --END ADVERTISEMSNTS --> <! --START LOWER CONTENT BOX-->